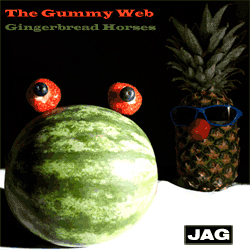 £

3.00
The Gummy Web is an instrumental collective from Twickenham formed in Spring 2010 and are founder members of the Jag collective. Blending a love of chiming guitars, blistering dynamics and all things gummy, their music has post rock-leanings but the result is a blissful journey into a magical place where everything is sweet and sticky. Their primary influences are instrumental and post-rock bands along the lines of Labradford, Mogwai, Fridge and Seefeel.
The Gummy Web's first release Coda can be found on the Jag compilation "The Cure For Whatever It Is That Ails You" which Andrew Morrisson of Dandelion Radio "could not recommend highly enough" after playing on the show's October broadcast.
Gingerbread Horses is the Gummy Web's debut single for Jag and comprises two uplifting and atmospheric tracks with simple guitar driven harmonies reminiscent of Explosions in the Sky and Tracer AMC.
The Gummy Web are currently in the process of developing and recording new tracks with a debut album planned for Summer 2011.
Tracklisting
Gingerbread Horses
Features haunting narration by Will O' Ban before swelling to an explosive conclusion.
We Shall Hear Angels
A tranquil affair with dissident undertones building to a euphoric final third.