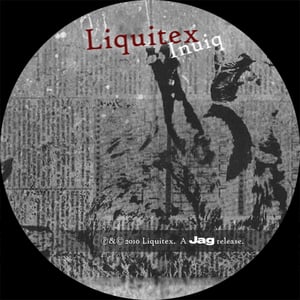 £

3.00
Liquitex is an electronic musician from London. He first appeared DJing in the chill out rooms and basements of various London clubs where he liked to lull listeners into a false state of security with lush organic soundscapes before pummelling them with harsh industrial beats. Demo tapes of his tunes started circulating and his debut vinyl release shortly followed.

SKAM records put the tracks Droids and Celluloid out as part of their SMAK series of 12 inches to promote new electronica artists. Droids features a slow harsh industrial beat over a beautiful delayed and sliced loop from this mortal coil whilst Celluloid's jagged off beat is balanced precariously over a stuttered synth arpeggio.

Liquitex followed this up with "Kimbonzai" on the split Secret Agent Records 7" with Richard X. A dark and brooding track of cluttered electronics and synth swells.

In 2010 Liquitex joined the JAG crew, releasing "Ones and zeros" as part of their "Cure For Whatever It Is That Ails You" label sampler. The first full length Liquitex album "Archive Zero" will contain all the dark electronica he's made between 2001 and now.
Track 1: Inuiq This is the sound of melancholic machines soothing your soul with a steaming hot bubble bath, scented candles, a tall glass of WD4 and a Teletype model 32 user manual. You can hear the technology offering a shiny metallic hug and a hard drive full of understanding.
Track 2: Frigiliana Frigiliana is a town and municipality in the province of Malaga, part of the autonomous community of Andalucía in southern Spain. It's also where Liquitex recorded this claustrophobic drill and bass postcard. Swimming pools, Lilos and laptops don't mix, especially when that much San Miguel is involved.